Nominated for the BREEAM Awards 2022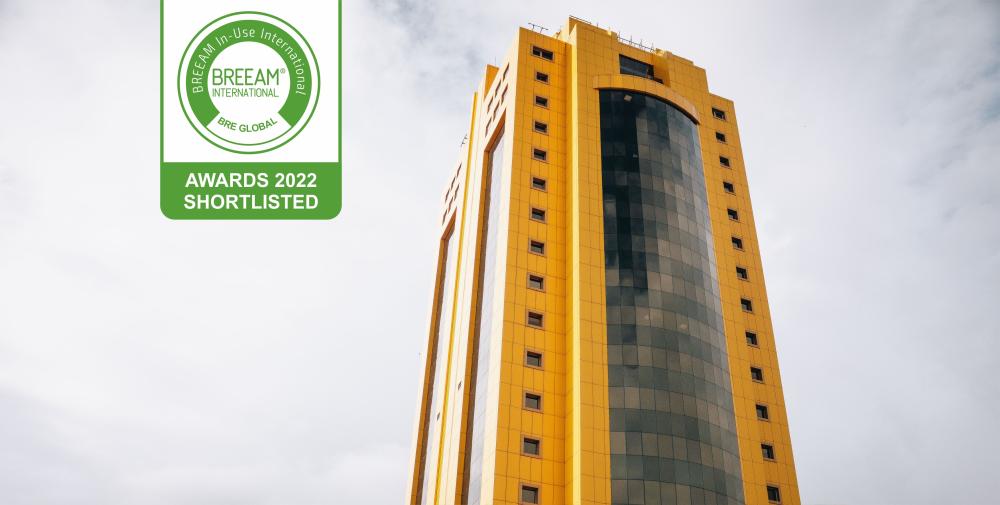 On December 20, we received great news from Bureau Veritas Kazakhstan, which has been an expert consultant in BREEAM In-Use International certification of Astana Tower Business Center, that our project was nominated for the BREEAM Awards 2022.
We became one of the first projects in Kazakhstan, presented in the nomination of such an honorable award. The BREEAM Awards are awarded annually to projects in various categories with the highest certification levels and high achievement of their sustainability goals. The categories in the awards for real estate projects in 2022 were:
Commercial Projects – Final Stage; In-Use,
Public Projects – Final Stage; In-Use,
Homes – Final Stage,
Regional Awards – America, Asia, Western Europe, Central & Eastern Europe.
The Astana Tower project is in the final list of the Asia Regional Award category.
Let us remind you that on October 7, 2021, Astana Tower Business Center received a BREEAM In-Use International green building certificate with a high EXCELLENT rating in the Building Management category and VERY GOOD in the Building Technical Equipment category. In 2017, this building became one of the first in Nur-Sultan to receive this certificate.
Such a high certification rating is a very significant assessment by the BRE Global Expert Body. The systems installed in Astana Tower are aimed at reducing environmental pollution. Certification is often a critical requirement when choosing an office for large international companies.
Among the special advantages of the building, the following were noted:
regular technical audit and thermal imaging inspection of the building for timely detection of defects and diagnostics of equipment operability;
automated operation of engineering systems;
energy efficient engineering equipment;
high quality acoustic indicators;
water-efficient sanitary appliances;
thermostats to control the temperature level in offices;
100% LED lighting;
convenient infrastructure for visitors with disabilities;
pedestrian accessibility to public transport stops.
Green certification in commercial real estate has become a standard in developed countries, especially for the office real estate market. Currently, more than 2.3 million buildings in 93 countries have been certified in the world.
#BREEAM #BREEAMawards