Types of office layouts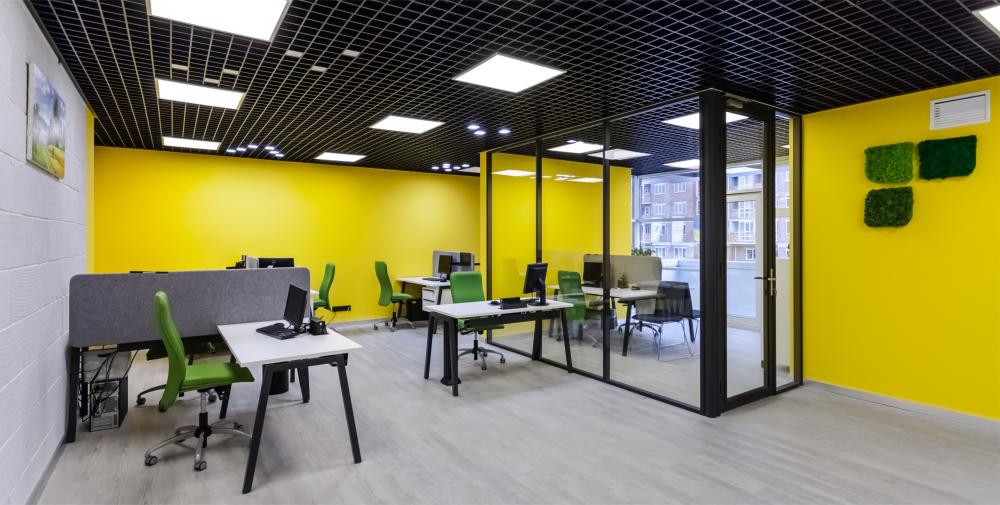 There are numerous options available for office layouts, each suited to your different business needs, the available floor space, and building facilities. Here's a quick overview at some of the main types.
TRADITIONAL OFFICES
A traditional office layout is made up of individual offices that are "built-in" meaning that they are permanent or semi-permanent. This style of office will include a combination of enclosed offices and meeting spaces with a more open reception area for receiving customers.
OPEN OFFICE SPACES
While some studies build a case against open-plan office space, you can build communication and collaboration between your employees with a well-designed open plan office. Teams that constantly collaborate can be positioned close to one another, keeping foot traffic to a minimum, whilst still keeping channels of communication open. In addition, open plan offices have the highest capacity to optimize available floor space and sources of natural light.
COWORKING SPACES
Coworking offers flexible terms for use of a number desks in an open office space and usually includes meeting and break out rooms. They primarily serve small companies and startups in need of work space for indefinite periods of time. Coworking space can be secured by desk per day, all the way up to yearly terms. Shared amenities, spaces, and appliances help keep costs low. In addition to the flexible lease terms and collaborative work space, coworking spaces often encourage social interaction between tenants in the form of organized events, panel discussions, and happy hours.
SHARED OFFICES
Similar to coworking spaces, shared office environments make use of excess floor space to share a single large office across multiple organizations. Although this approach is primarily used to reduce office costs, shared office space can also help develop strong networking links between complementary organizations.
EXECUTIVE SUITES
Executive suites can come as fully serviced work space nestled within a full floor of space that has been leased to another company. You can often secure executive suites as a sublet with flexible terms. On top of coming fully furnished and pre-wired for phone and internet services, the perks of an executive suite include access to a common conference room and break room, and a reception area with a receptionist.
PRIVATE OFFICES
Your business may need some amount of private office space. For example, your employees may work with confidential information, so you need the security of a separate space, or you may need to hold private meetings in a private and imposing environment.
VIRTUAL OFFICES
In the digital age, some enterprises will find that all they really require from an office is an e-mail and a postal address. Virtual offices offer companies just that, while also often including telephony reception services and limited use of facilities for conferencing and meeting with clients. Virtual offices can create a professional front for small businesses to interact with clients, giving companies the possibility of having a prestigious address.
CHOOSING YOUR OFFICE LAYOUT
For some, optimizing business productivity may be as simple as moving a few desks and erecting some partitions. For others, you may need to take a more holistic approach where you design your office layout based on the needs of your business and your employees.
Whatever you decide, good design demands a careful compromise between many different elements. The best office will likely involve the use of multiple types of layout, combined into a single workplace that can suit all the differing needs of your business and your staff.
For many, the office is not just a building, it's a home, and such design elements are becoming essential parts of the workplace.